For today's very late post I'm going to review EradiKate by
Kate Somerville
. I'm going to go ahead and say that this is going to be a positive review. I know, you're surprised, I kinda am too. It's a leave on acne treatment, best used at night.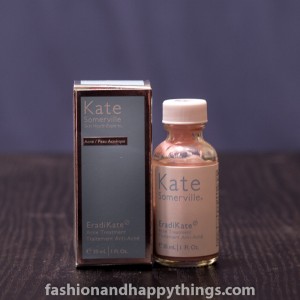 Similar to the Mario Badescu Drying Lotion it has pink goo on the bottom and a clear liquid on top. To apply it to your face you dip a q-tip straight down and then dot it on your acne. I use this every night provided my face isn't feeling to sensitive. It's not drying but it does sting a bit if the blemish is new or open. I put this on all my blemishes until they go away completely.  As much as I hate to show this photo, here's what it looks like once applied.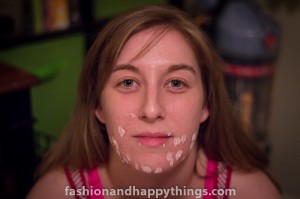 That's a lot of pink right? Most of those are mostly healed up, but now you can see that I'm not kidding when I say I have severe hormonal acne. Also please excuse the bags under my eyes, it's partially the angle and partially that this photo was taken at 1 am the day before I went to the
pride festival
. I had just finished the
DIY floral crown
I recently posted.
This, among other things I've recently added to my routine, is really helping, it used to be much worse than it looks now. While this isn't an instant cure, there really isn't anything for acne that actually is.