In my Mother's Day Gift Guide I said I'd be perfectly happy if I received a Gift Card to the Gap, and then I did a post showing what I'd most likely buy if I did. Well I didn't receive the card, and sort of new I wouldn't, since I already had gotten
my gift
way back in April.
Well I was bored the other day, and when I'm bored I window shop online, and I found somethings that I really loved in the sale, and came across some deals that I just couldn't pass up.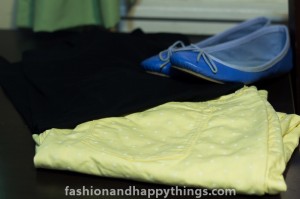 That black tee that I said I'd get if I got a gift card, full price $20 on sale for $15. Then there were these yellow polka dotted skimmers that I fell completely in love with, full price $70 marked down to $20 and only left in my size. Finally, the blue leather flats I featured in my I'd rather be in Paris or Parisian Chic post, full price $40 on sale for $20 once again only in my size. If you grab your calculator you'll see that full price it would come to $130, before tax. But I wanted to see what they'd come to with the sale prices, so I put them all in the cart and they came to $56 including tax, but wait there was a coupon code at the top of the site for 35% off, which made my total $36 and free shipping. I mean really? How could I not. That's one third of the price.
I, of course am a very happy camper, and will definitely be checking the Gap sales more often.
*Edited to add: I just discovered this is my 200th post! And it's about shopping...I seriously have a problem.