Companies are being held more accountable for the products they put out. If a movie sucks everyone knows about it before the credits of the first showing are rolling. If a restaurant has bad food or service, if a clothing brand has bad quality clothing, they're held accountable by their consumers for it now. Thanks to the internet and Twitter and Facebook and blogs, companies are being forced to do better.
Which brings me to a company that actually is doing better. I tweeted a few weeks ago that I was mad my Sephora never had samples of the Ren Glycol Lactic Radiance Renewal Mask, because since I have sensitive skin I wanted to try it before I bought it. Last week Ren's Twitter contacted me and said if I emailed them my address they'd be more than happy to send me a sample. I can't tell you how happy that made me. I've seen them mention sending people samples before, for those that legitimately ask about a product. But still I was surprised when not only did they reply to me a week later, they replied with an apology for taking so long, and an offer to send me a sample.
I mean really that's just good business right there. So many companies would have ignored my complaint or if they replied they would have told me to go ahead and buy it because they're sure I'd love it. But instead
Ren
took the time to send my a sample at their cost, with no guarantee that I would either purchase it full size, or that I would review it on my blog. I doubt they even knew I had I blog. Plus they gave it cute packaging.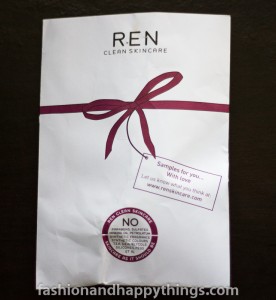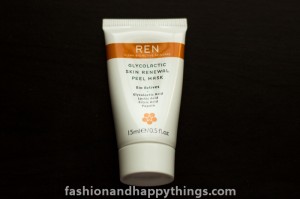 And the best bit? I will be buying the mask because I absolutely adore it. I used it the night I got it, and it was lovely. It looked and felt a bit like marmalade out of the packaging, but it smoothed on the skin very nicely. It felt lovely for the 10 minutes I had it on my skin, and only tingled a little bit in a pleasant way. It washed off easy and it left my skin glowing, and feeling amazing. Since I've only used it once and that was last night I can't tell how it's going to affect my acne, but so far so good. Bonus, it smelled amazing, like pumpkin butter, which being completely in love with fall, I am also in love with all things pumpkin.
With one simple sample, Ren has earned themselves a loyal customer. I've already ordered their Hudra Calm Gentle Cleansing Milk to use after my Liz Earle Cleanse and Polish, because I double cleanse and I finally completely ran out of my Caudalie Gentle Cleanser.
To me this showed that Ren knows they have a quality product and their willing to put their money where their mouth is, so to speak. I couldn't be more happy with this company and my sample. I can't wait to add this mask to my skincare routine.