Or The Scary Season Is Coming
I don't know about you, but what I'm reading usually changes with the seasons. Spring and Summer I like to read light, everyone is falling in love, type books. But come fall and winter, I love mysteries, and dark, creepy or scary books. I'm  not sure if it's just me getting ready for my favorite holiday, but come the colder seasons I am all about the creepy stuff.
Not all out horror, don't get me wrong, but you won't catch me watching the final destination movies (save the second one that
Ryan
made me go see, and then didn't show up for you ass!), but when it comes to books I like to read things that I could never ever watch on T.V.
Which brings me to this book haul.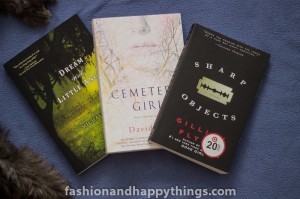 Why yes that is Howl on the edge of the picture. Photobombing is an art and he has got it down, just go look at my
last haul
. From Left to Right they are, Dream With Little Angels by Michael Hiebert, Cemetery Girl by David Bell and Sharp Objects By Gillian Flynn. I'm probably most excited for Sharp Objects, because it was recommended by
ChapterStackss or Katie
on Youtube. She is probably my favorite youtuber. I followed her from her beauty channel to her booktube channel and every book that she's recommended that I've read, I've adored. She's actually who inspired me to start doing book reviews on my blog, so go check her out!
As you can see I bought these books from Target, and I haven't read any of them yet. I'm really excited to get reading them, but I actually have another book to read first. It's called
Getting Rooted in New Zealand by Jamie Baywood
and after I've read it I get to do a mini interview with the Author that I'm very excited about. I kinda consider it my last light and girlie book of the summer. What books are you looking foreward to reading this fall?