Or I know I look like Nancy Drew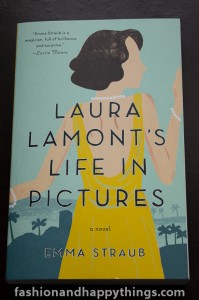 The fact that my outfit turned out to look more like Nancy Drew, rather than how Laura Lamont would have looked is purely accidental. Most of my clothing is more 60's style, where as the beginning of the book is set in the 1920's and ends in the 1970's with her being 60 years old.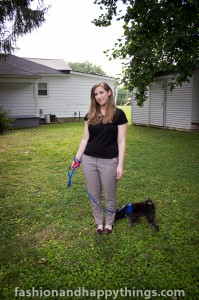 It starts with Elsa Emerson growing up in her father's theater the Cherry County Playhouse at age 9, and what happens to Hildy that changes everything for Elsa. From that summer we jump to the summer that Elsa turns 17 and she meets her ticket out of small town Door County, Wisconsin to Hollywood.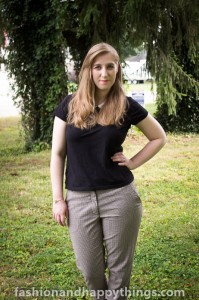 After two darling girls and a Divorce, Elsa becomes Laura Lamont and looses herself in acting. She becomes famous, remarries, and adds a son to her family.
The title says it's Laura Lamont's Life In Pictures, but it really is less about her acting career and more about her actual life. You follow her from 9 years old to her 60's. You learn what shapes her, and how she becomes her characters.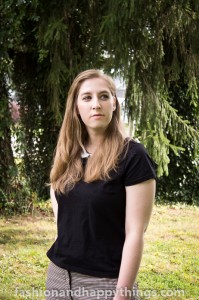 I loved this book. It didn't take me long to read and the story is smooth and light, while still covering some very serious things. I love that it's set in the 1920's through the 70's, though it never really gives an exact year that I recall. It just mentions her ages as things are happening to her. I really recommend this if you're having a day to yourself and want something easy and light to read. I would say that this is aimed more at women, and while I hate the term, it's definitely Chick Lit.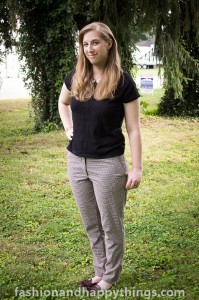 Now on to why I look like Nancy Drew. I wanted to put together an outfit for this book that I would still actually wear in my everyday life. Something that Laura Lamont would probably wear in her off time.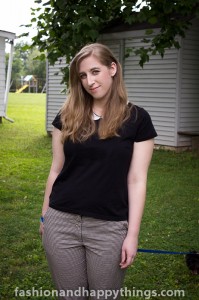 Both my peter pan collar top and my pants are from H&M. Bonus you can see Howl Peeping into the shot.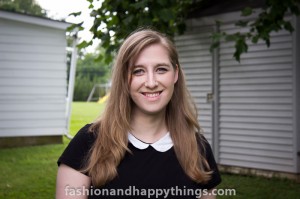 I kept my makeup and hair very simple. All I did with my hair was Blow dry it, and then bobby pin the left side behind my ear.
On My Face: Lancome Tient Vissionaire, Nars Deep Throat, Lancome Brown Eyeliner, Benefit's Gir Meets Pearl Highlighter, and Lancome Eyeshadows that came in their
christmas kit
Bare Minerals Lash Domination Mascara and Smiths Rosebud Salve on my lips.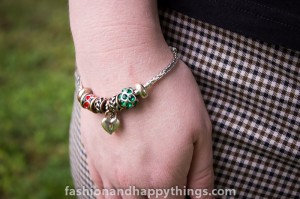 My bracelet was a birthday gift from my husband for my 24th birthday, I adore this bracelet and it represents things that are really important to me. I love that my husband and son went and picked out each charm all on their own.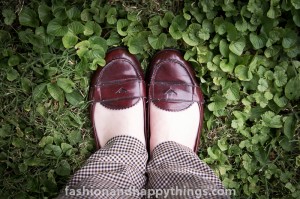 And my shoes were Penny Loafers that I bought a few years ago from Alloy. I actually bought these the year that the Nancy Drew movie staring Emma Roberts came out. So I've had them forever, and they were on sale at the time. The only bad thing is, since I don't wear them enough, I've only just now broken them in.
I loved both this book and this outfit, and I can promise you'll probably see a few more accidentally Nancy Drew outfits this fall. Or if not Nancy Drew then Gwen Stacy.