I actually bought this product ages ago, but I don't think I ever posted it in a haul. I ran out of my Caudalie Cleansing Milk and wanted to try something new so I bought this.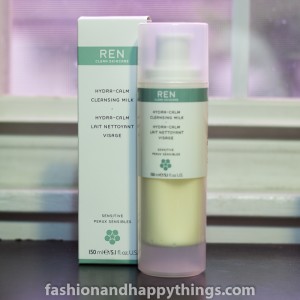 I love the product, it smells nice and feels amazing on the skin. I works wonderfully to take my makeup off and I almost don't feel like I need to double cleanse afterwards. I don't use this daily, only when I've worn makeup. It's priced really well considering you get 150 ml for $32.
I was using this in the morning and then using it at night after I took off my makeup with my Liz Earle Cleanse and polish. But I thought it was breaking me out because of the Shea Butter in it, so I started using it only to take my makeup off, which is how I was using the Caudalie Cleansing Milk anyway.
I think the ClearCalm 3 Clarifying Cleanser would have been a better fit for my skin, but even still I really like this cleanser. Plus the packaging is really cool. You actually "use it up". The packaging is a balloon or something like that and it shrinks up as you use up the product. It makes me feel like I'm going to get all of the product out.
Final Verdict: This is a nice cleanser, and I fully recommend it to someone with sensitive, non acne prone skin. I really like it, but it's just not for my skin type.