Or Rampant Consumerism Doing Good
We all know that I'm a sucker for anything that says buy me and do good. Seriously from September to December when stores finally run out, all my household goods and food are covered in those little pink Susan G. Komen symbols. I just can't help it, if I'm going to buy something anyway, I may as well help someone while I'm at it. However,
Sevenly
always gets me, and I wish I could buy tees from them more often. A few weeks ago they had a cause that really hit home with me, so I rearranged somethings so I could pick it up.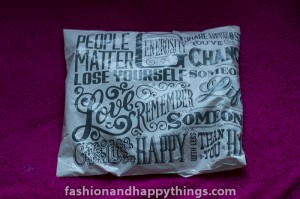 First can we just take a second to look at how cute that packaging is? It's flat out adorable.I almost didn't want to open it, but I knew it had my shirt inside, so I did.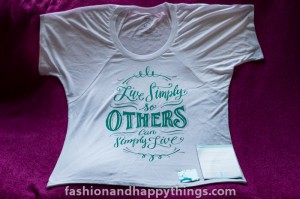 This particular shirt supported ending Gendercide in China. Which is a cause very near and dear to me. I hope to one day bring one of those little girls home with me, and teach her that she is worth so much more than so many Chinese people believe. It just breaks my heart when I hear about little girls being, orphaned, killed or aborted, just because they weren't a boy. I really hope they don't close off adoption between America and China before I am able to do this.
The shirt says " Live Simply So Others May Simply Live." It's a reminder I need on a daily basis. I am a consumerist at heart, and believe strongly in retail therapy. I haven't had a problem yet that I couldn't solve after a few hours shopping. Except well the problem of being broke. But I need to learn to take a step back and breathe. If I'm ever going to adopt, I need to save, so this shirt is the perfect reminder.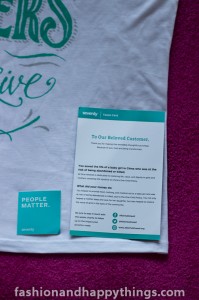 The shirt came with a sticker that says "People Matter" that I'm pretty sure my son ran off with, and a card that tells you exactly where your money went and a bit about the organization you supported. I know you can't read it here, but I thought I'd show it anyway, so you know what to expect if you order from
Sevenly.Com
. I kinda really love the stickers and have one from last year stuck to my laptop that says "World Change Is How I Roll."
If you're looking for a new graphic tee, I highly recommend you check out Sevenly.