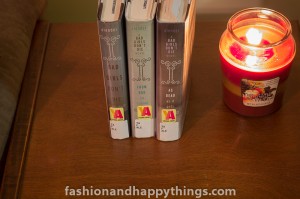 I read these books over the weekend and I debated on reviewing them as a Trilogy or singularly, but ultimately decided on doing them all together because I that's how I read them. As you can see I checked them out of the library. I'm a bit annoyed because I had a hard time getting into one of the books and I spent too much time on it before I gave up and now I still have 3 books to read and they're due back tomorrow. These 3 were the first ones I read, because despite turning 27 in exactly 1 week, I'm still a big fan of YA and wish my local Libraries (there's 3 of them close to me) had more of them. This series is by Katie Alender.
A quick overview all three books are about Alexis and her sister Kelsey.
Bad Girls Don't Die:
The first book in the Trilogy, Alexis is worried about the changes she's noticed in her younger sister Kasety. It's beginning to seem as if she were a different person all together. Her creepy, obsessive behavior over her dolls, stealing other kids homework from school and terrible cruel attitude make Alexis believe that something is really wrong with her. Alexis is a loner in general, so on top of trying to save her sister, she's also dealing with a new friend and boyfriend. Sometimes it's more than a house that is haunted.
From Bad To Cursed:
Kasey's home again, and is now entering her freshmen year of high school. Alexis and her best friend Megan are so relieved when Kasey starts making new friends they almost don't notice that there's something not entirely Sunny about The Sunshine Club. While always reminding each other to stay sunny, the girls are becoming more and more beautiful and popular each day. But when the girl that always walked with a cane suddenly doesn't need it anymore, and the goth girl starts dressing like Jackie O, Alexis and Megan know something is very wrong. So they join the Sunshine Club to see what's going on. Only they both end up in over their heads. Will they be able to save Kasey? Or will everyone stay Sunny?
As Dead As It Gets: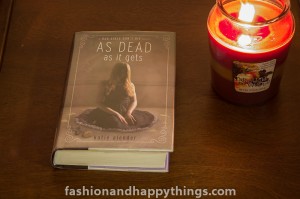 The Final book in the Trilogy finds Alexis and her friends in trouble again. After having broken up with her boyfriend and an accident that kills one of her friends and leaves her able to see ghosts in the last book, Alexis is just an absolute mess. She barely takes any photos anymore, and is misses her ex so much she also almost misses the new guy dying to be her boyfriend right in front of her. Everything is nearly picture perfect once she does start dating him. Sure he's a bit controlling, but he has his reasons. However when girls that Alexis knows start going missing, and turning up dead or nearly so, it looks like it's Alexis's doing. But when Kasey goes missing, and there was no possible way that Alexis could have done it, she knows she has to do something With the help of her ex-boyfriend, her best friend and a ghost, Alexis can only hope she gets to Kasey in time.
Final Verdict I absolutely adored this series. Despite the books looking like they were long, I finished them all in 2 days. I was also left wanting to read more about Alexis and Kasey's lives. But sadly for me, the author confirmed that
3 was the magic number
. However she does have a new book just out that I'm dying to read and review for called
Marie Antoinette, Serial Killer.
For this weeks outfit, it's another get the look type set. To be honest I dress more like Kasey in the third book, but since Alexis is the main protagonist I wanted to represent her.
I chose a distressed sweater, this particular one is from Wildfox, but Sheinside has some cute ones too, some Jeans and boots from H&M because I totally feel like she would shop there. It covers so many different styles. And a half heart necklace (read the first book, you'll get it.) Then a film camera since she's a bit of a photography snob, I'm totally all for that by the way. And some Manic Panic dye, with the pastel creme addition.
I kinda feel like I could totally wear this outfit. Definitely those boots though I'd wear them with tights and a skirt or leggings. I might wear the jeans, but personally I'd go with a cardigan or a stripey top, but for Alexis this totally works. Keep your makeup simple if you wear any, but if I were dressing as Alexis I'd wear black or grey eyeliner and a simple nude matte lip.
Have you read this series? If not what are you waiting for?