I participated in this sponsored campaign for One2One Network. All opinions stated are my own.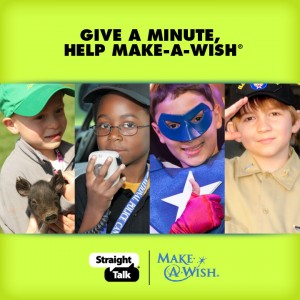 The Make-A-Wish Foundation is very near and dear to my heart. Having grown up with a sister who was very ill, I spent some time visiting in the hospital. Thankfully my sister was never sick enough to need a wish, but I have met some children who were. So when I was contacted by the One2One Network about writing a post promoting the
Straight Talk: Give A Minute, Help Make A Wish
, I agreed immediately.
Every Saturday in September, if you go to your local  participating Walmart and listen to a Straight Talk Representative talk for one minute about Straight Talk, then they will donate one dollar to the Make-A-Wish foundation up to 1,000,000. Everyone has a minute to spare.
Don't know if your Walmart is participating? Or just flat out don't live near one? Well don't worry because Straight Talk will donate $1 up to $100,000 towards their $1,000,000 goal for each share of the video on
straighttalkwish.com
. It is limited to 1 per viewer, per day.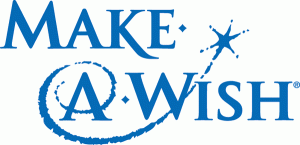 Before you decide you won't "waste" just one minute of your time or the time it takes to watch and share the video, think about all the children that deserve to have just one wish come true? Think about the happiness that a wish come true could bring a very sick child. Then think about the 6 hours you wasted last night on Candy Crush. Yep, I went there.
This is the second year that Straight Talk is hosting this program. Last year's was super successful in reaching their $1,000,000 goal, and I don't see why we can't all make this year's just as successful!
To everyone that has already, plans to, or goes out and participates in Straight Talk Wireless's: Give A Minute, Help Make A Wish program, I would like to extend a very sincere Thank You. You're helping make a child's wish come true.