I bought the Kiehls Rare Earth Cleanser and Toner
a while ago
. Originally I had gone in to get the Rare Earth Mask but they didn't have it, and since I needed a Cleanser and Toner I just went for these. I still haven't bought the mask, but I really want to.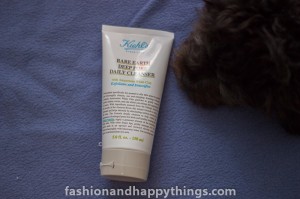 I don't think I've had a rave review about a cleanser in a very long time. Not since Liz Earle broke my heart. But I really like this cleanser. It's a cream cleanser, which means it doesn't foam at all. Which I like. I'm not actually a fan of foaming cleansers, I much prefer cream, balm, or milk cleansers. This one has bits of Amazonian Clay in it that help soak up the oil, keep it at bay and provide a bit of exfoliation. But unlike other products that claim to have gentle exfoliation this one really doesn't tear at your skin or rip open acne blemishes unless you scrub too hard. It sort of reminds me of that Dermalogica Powder exfoliant, which I have added to this on occasion to give it some extra oomph.  I absolutely adore this cleanser, and while it took me a while to figure out how much to use, you really only need the tiniest bit, I will be repurchasing this when it runs out. I keep forgetting how much I love Kiehls products until I repurchase one.
How I Use It: This is either the first or second step in my routine. I use it every morning first thing, followed by another cleanser and the rest of my routine, and if I'm not wearing makeup I use it first at night, followed by the same morning routine, but if I've worn makeup that day then I take my makeup off first then follow with my morning routine. I apply it to slightly damp skin, and then take it off with a Hot cloth.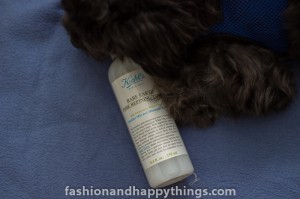 I'm gonna have to give this toner the same love that I'm giving the cleanser in this line. If you have oily skin even if you use nothing else, use this before your moisturizer. I've used it with another toner before, I've used it on it's own. With the Rare Earth Deep Pore Cleanser, with Origins products,  with a heavy moisturizer, and with a light oil free one. In a box, with some socks, this toner is better than green eggs and ham. Instead of feeling oily all day, my skin feels like it properly absorbs my moisturizer and is clean and fresh. It's probably my favorite toner I've ever used.
How I Use It: I mentioned above this varies. Sometimes I use it with another toner or other products, but it's always the last toner I use if I'm using other toners with it. I shake the bottle really well, poor a bit in my hand and pat all over my face. A little goes a long way, and I find I use less of this product applying it this way, rather than with a cotton pad.
All in all I highly recommend both of these products if you have oily skin.