This week's photos were taken on Friday the 13th. Which as I mentioned in my
And Other Spooky Stories
post, was actually a pretty good day for me. It was the first day this year that felt like proper Autumn, and I got to pull out Boots and a Sweater.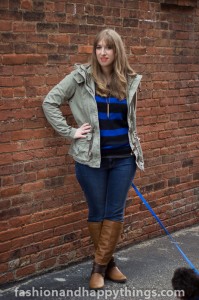 I'm wearing a Utility Jacket from H&M, Hollister Sweater, Gray Tank from H&M, Gap Legging Jeans, and Pink and Pepper Boots.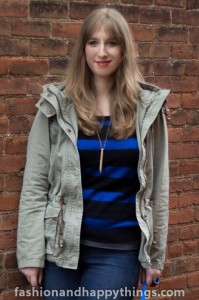 Even though it's from Hollister and I'm not actually a fan of the Abercrombie company and it's policies, I actually really love this sweater, and would totally buy more sweaters from them. This one is really soft and comfortable and washes well, even though it says dry clean only.
The jacket I bought from H&M last spring, and it's absolutely awesome. I last wore it
here
. I adore this jacket, it's comfortable and it's perfect to layer with a sweater on extra chilly days.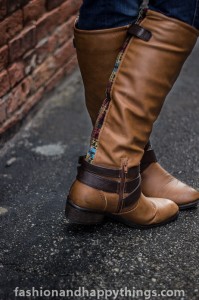 These boots from
Pink and Pepper
I bought last year and I adore them. Despite the one inch heel they are incredibly comfortable and are my absolute favorite riding boots I've ever owned.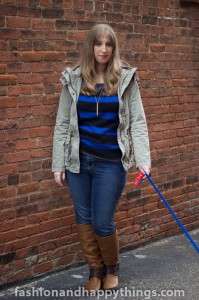 There's no good close up of it this week, but I'm wearing the Pen Necklace Miss Cannady bought me last year for my birthday. I am obsessed. It's probably my most worn necklace.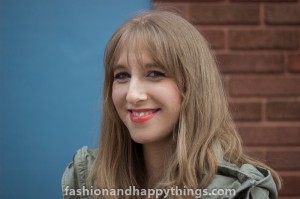 I am completely in love with my makeup from these photos too. I'm wearing Lancome's Tient Visionaire foundation and concealer, Nars Deep Throat Blush, Lancome Eyeshadows, YSL Baby Doll Mascara, Lancome Rouge In Love Lipstick in Madam Tulip, and Makeup Forever HD Setting Powder.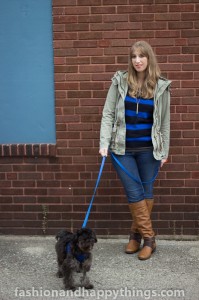 Of course here's Howl's close up. If you're wondering why his front leg has been shaved, that was from his time in the hospital. He is doing so so so much better, but he's still on medication and constant surveillance.
How did your Friday the 13th go?