Well guys, here is it day 12 and I've hit the dreaded blogmas block. Since I'm not a daily blogger, I've hit a sort of wall where I've run out of ideas. Normally when I have nothing to say, I just wouldn't post that day, but since it's Blogmas the posts must go on. Which means you get rambling and a photo of Howl covered in snow.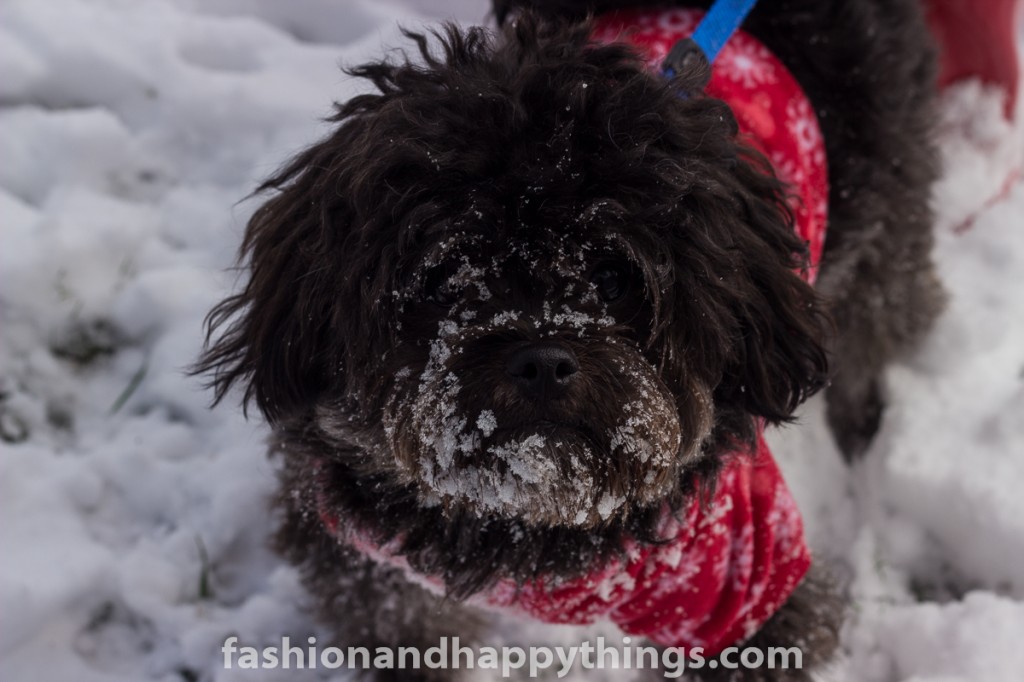 Yes this is from the same day we took sunday's photos. Sometimes when there's a lot of good ones I'll hold some back to use at a later date.
I know I said in yesterday's post that I would be staying in for exercise, but I ended up feeling guilty and taking Howl for a walk around my local track last night. It wasn't as bad as I thought it would be. I wore my navy Gilly Hicks Hoodie with a long sleeve tee under it and a pair of the Victoria's Secret Most Loved Yoga Leggings, and Fingerless gloves (and the evil much hated trainers) The only thing I would have changed is I would have worn my earmuffs that play music instead of my earbuds and I should have worn full gloves because my fingers were so cold. Other than that it was kinda nice.
I've lost my mind right? I actually do like winter, and I love the snow, so it was just a matter of keeping walking (not a problem with Howl trying to drag me down the hill) and concentrating on how pretty my snow covered park was. Howl and I were the only ones out, which I'm guess had something to do with the fact that it was 0°C outside. But I'm planning on doing it again very soon. Only with proper gloves and earmuffs this time.
Maybe I'll do a winter exercise outfit post soon. I plan on having My Christmas Wishlist post up very soon.