Yesterday I mentioned I had another exciting post for today, so here it is. A blogger friend of mine Kallie from
But First Coffee
, sent out an email recently asking if anyone wanted to help get the word out about her mug swap. Since I adore Tea and Coffee and adorable mugs I of course said Sign Me Up!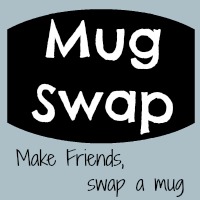 Starting today, until the 17th you can sign up using the form below to be assigned a partner for your mug swap, but there are some rules. Ya know, just to make everything fair so here they are.
        1. Sign up using the below form. Open to everyone (not just bloggers) and is International.
        2. Sign ups close February 18th and you will receive your partner by the 20th at the very latest.
        3. Spend 1-2 weeks chatting with your buddy, getting to know them.
        4. Send out a mug to them before March 6th.  The MAX you should spend on the mug is $20.  If your buddy is international, then reduce that to $15 MAX to incur shipping charges.
        5. I'd love to see your mugs when you get them.  Use the hashtag #BFCMugSwap (because apparently mug swapping is a thing and its already got a handful of taken hashtags!)
        6. Share it! Make sure to tell your friends about the swap on twitter and instagram!
Here's the form:
I think the best part is the mugs can be from anywhere. I've already been looking at mugs and of course places like Anthropologie and Starbucks have cute mugs, but did you know that Chapters in Canada and Barnes and Noble in the US have some pretty amazing mugs too? I'm not surprised books and tea (or coffee) definitely go hand and hand. ← See what I did there? I'm really excited about this and I can't wait until I get assigned my partner. I hope you guys are as excited as I am! Leave me a comment below and let me know if you sign up!
Disclaimer: I'm hosting this swap as a fun way for people to connect and have fun swapping a mug.  However, I can't be held responsible for your partners actions.  I like to believe everyone will be fair and only sign up if they intend to swap a mug, but there is always an off chance that someone is dishonest.  If you haven't heard from your partner or do not recieve a mug, please email me to let me know (butfirstcoffeeblog@gmail.com) and I will do the best I can to rememdy it.