When I was younger I was a Tomboy. In Kindergarten my parents had to fight to get me to wear a dress, and I only did with the concession that I could wear my X-men shoes with it. In 3 and 4th grade I constantly wore Yellow Leopard Print High Top Converse. They were my favorite shoes ever. Probably still are, those shoes rocked, and I cried when I outgrew them.
So today since I'm still feeling a bit crappy and my ankle still hurts, I decided to pull from my tomboy roots.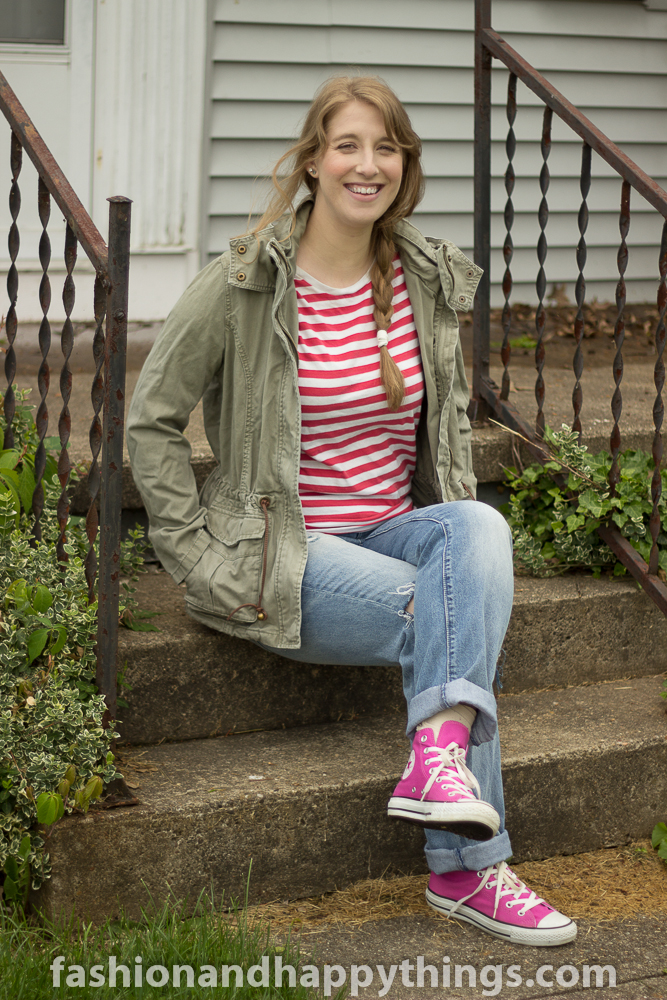 H&M Men's Tee, Madewell Rail Straight Jeans, Raspberry High top Converse, H&M Cargo Jacket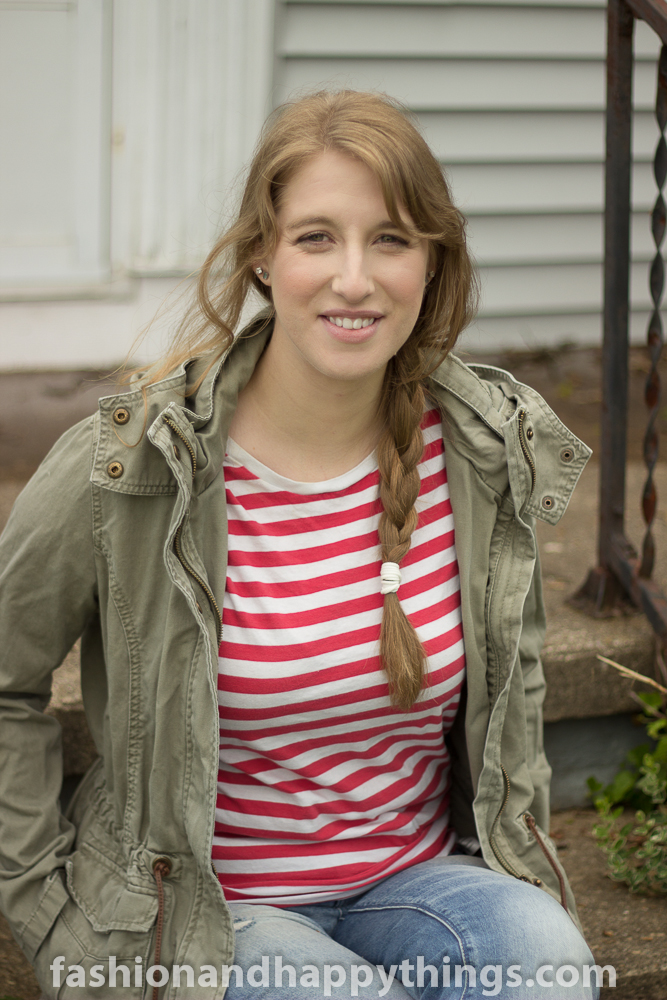 I'll confess I swiped this tee from my husband's closet. It's a comfort thing for me. Whenever I'm sick, hungover or just depressed I steal his tees. He pretty much exclusively wears H&M tees, and they are the softest most comfortable tees ever.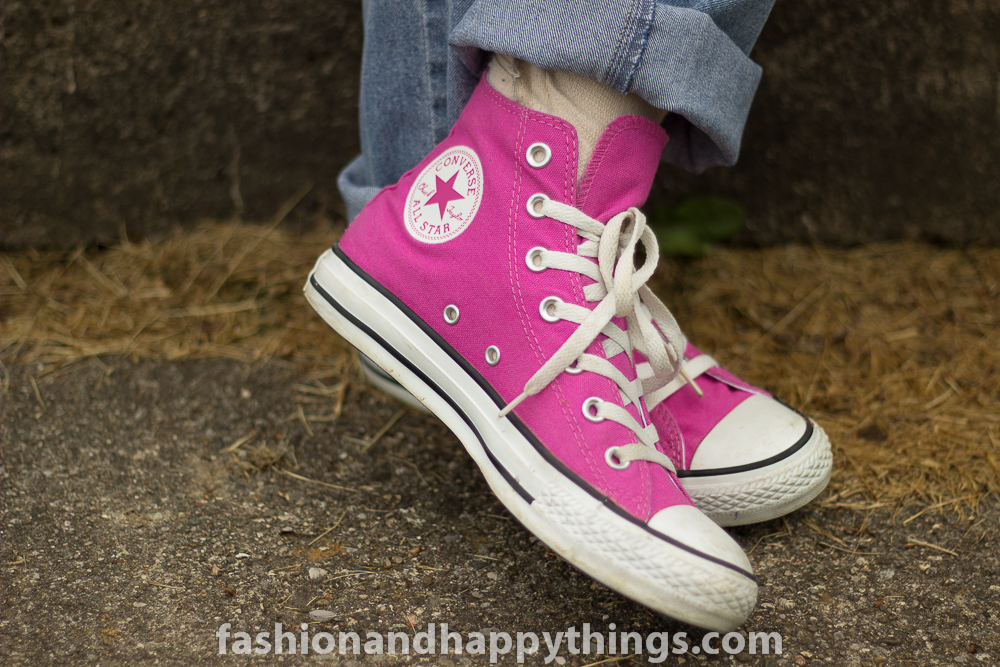 These converse I bought a few years ago and they don't get very much wear. I was so excited about them when I bought them, but I never feel like I've styled them very well. However since I need the support for my ankle, and I can lace them up over the wrap, I think for the next week or so these will be getting a lot more wear.
My makeup is super simple: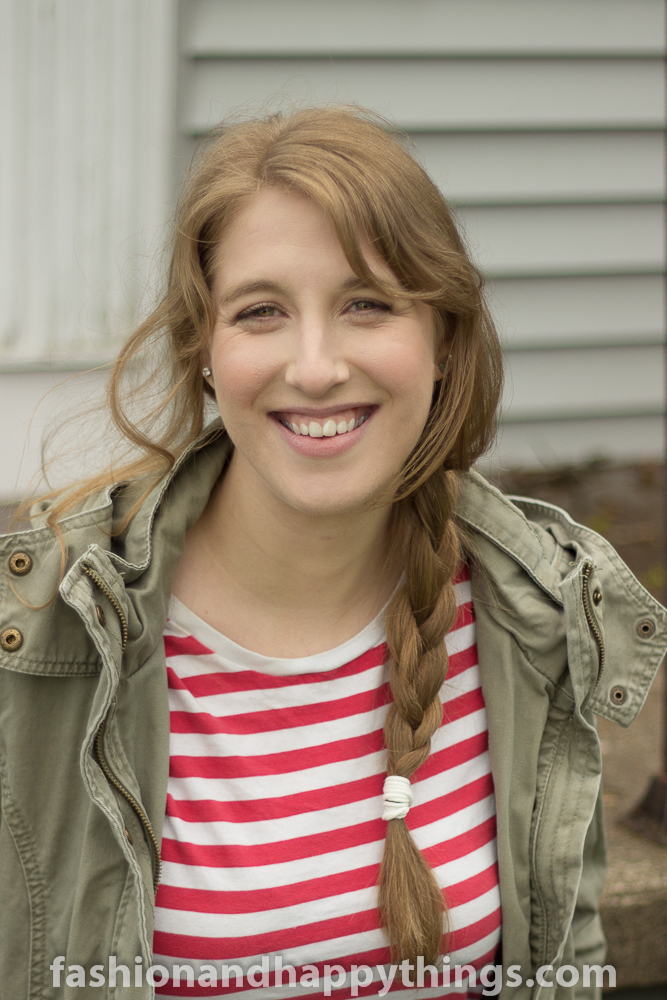 Nars Sheer Glow in Siberia, Nars Pure Radiant Concealer in Chantilly, Nars Deep Throat, The Balm Mary Lou Manizer, Marc Jacobs The Lolita Palette, Benefit's Bad Gal Lash, and Victoria's Secret Strawberry Fizz lipgloss.
My hair is just in a simple side braid with a white Emi-Jay tie and my nails are unpainted and short. Crutches are horrible on your manicure.
I'm only using the crutches now if I have to walk for more than a few feet. I should probably still be on them all the time, but I am really Klutzy and I'm worried I'm going to hurt myself.